Some New Content I'm Working On
---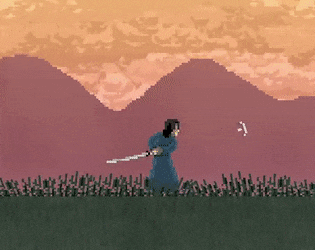 I've been working on some new content lately.
Firstly, I've begun the early stages of an arcade mode in which you will fight multiple simple enemies on the way to a handful of bosses of increasing difficulty. To facilitate this I've added the ability to turn around and face the opposite direction. I made some tweaks to the AI to allow for enemies which feel fair to fight in a 2v1 setting, they have larger windows between strikes and will telegraph themselves for longer. This mode should be a lot of fun and I've got some nice setpieces planned. I have no ETA on when this mode will be done but it should be worth the wait.
Secondly, I've begun working on sprite variations to allow for more player customization as well as giving the enemies in the new mode more unique appearances (bandits, dojo students, etc). I've already made some good progress on this as you can see in the attached gif. I will mostly likely roll these out in a new update before I have finished the arcade mode.
Finally I've been working on some general tweaks and improvements like improving the physics of the blood splatter and fixing a few old bugs.
Stay posted for some more updates in future.